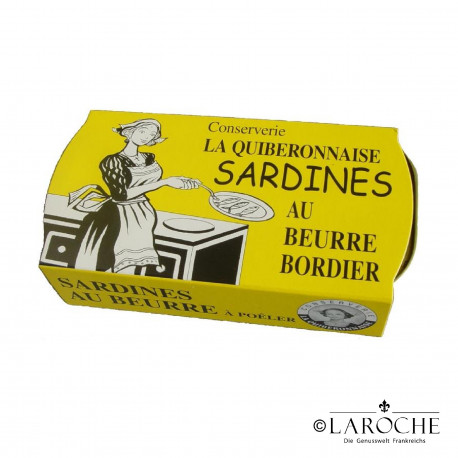  
La Quiberonnaise, Sardines in Bordier butter (ready-to-fry) - 115g
Recipe with a very high quality butter!
The producer: La Quiberonnaise is a family business located in the port of Quiberon (Port Maria) in Brittany. It was created in 1921 by the grandmother of the current owners, Bernard and Thierry Jourdan. The fish cannery still works exclusively in the traditional way (by hand) and with the best raw materials. The fish is processed fresh and the company respects strict fishing periods (from May to September for sardines). The partnership with the Bordier butter brand allows La Quiberonnaise to create exceptional sardine specialities.
Serving: Rinse the can under hot water before opening. Then pour the sardines into the pan and heat them over a low heat for 3 to 4 minutes, turning them over.
Data sheet
| | |
| --- | --- |
| Volume | 125ml |
| Netto weight | 115g |
| Allergens | Fish, lactose |
| Packing | Tin |
| Ingredients | Sardines 80%, butter 20%, salt |
| Consumption guidelines | See the description. Instructions for use on the packaging. |
| Producer | Conserverie La Quiberonnaise, Port Maria, 56172 Quiberon, France |
| Average Nutritional values per 100g | Energy value: 1095kJ/264kcal - Fat: 19.75g thereof saturated fat: 8.7g - Carbohydrates: less than 0.5g thereof sugar: less than 0.5g - Protein: 21.3g - Salt: 1g |
| Best Before | 07/2025 |
16 other products in the same category:
The wasabi-flavoured sardines are an amazing discovery!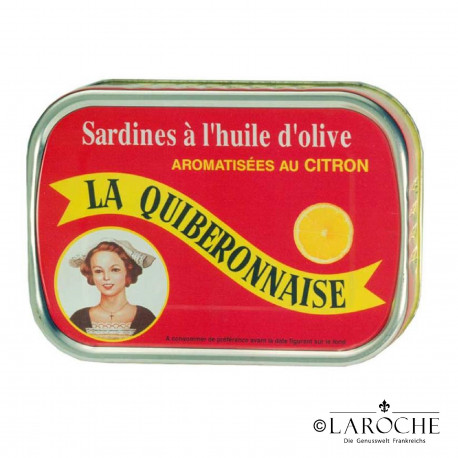 Prepared with extra virgin olive oil and lemon.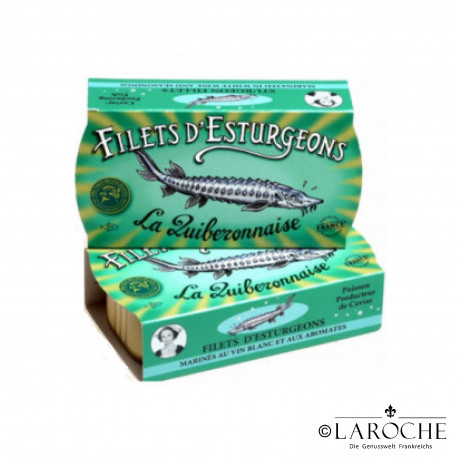 Sturgeon fillets marinated in white wine and herbs. La Quiberonnaise sturgeon fillets win the "Coups de Cœur de l'Innovation" in the Grocery category awarded by the magazine Produits de la Mer.
Prepared with olive oil and seaweed.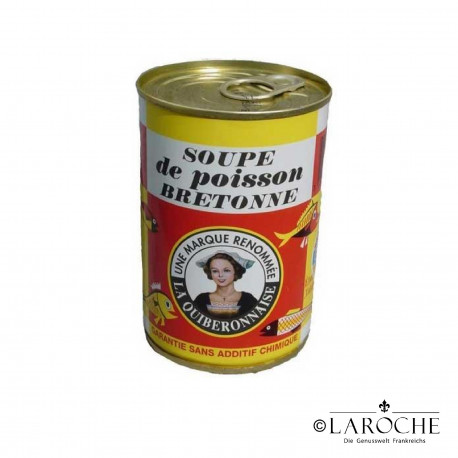 La Quiberonnaise Breton fish soup is considered the best in the region!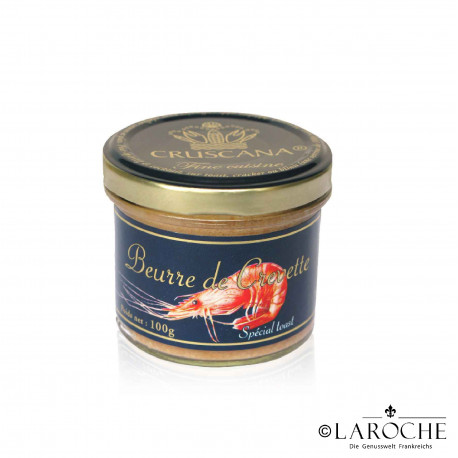 The perfect spread for your aperitif: the delicious shrimp butter from Cruscana!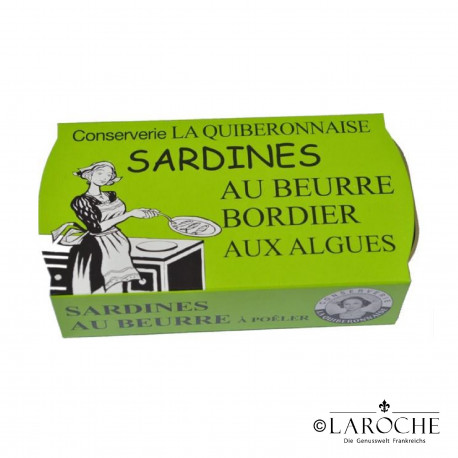 Recipe with a seaweeds and a very high quality butter!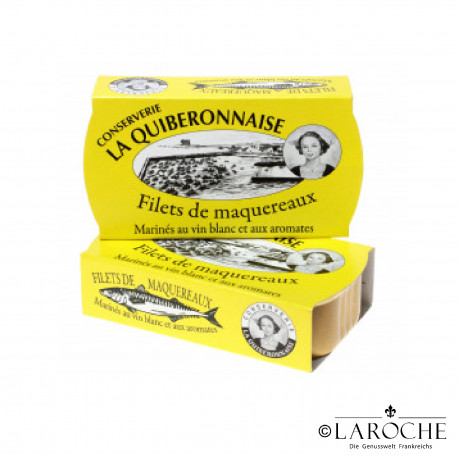 Atlantic mackerel, caught in season, prepared and packed by hand. Traditional recipe with natural condiments hand-packed in boxes.
Fragments or pieces of tuna cooked in a court-bouillon, canned by hand, covered with olive oil and lemon extract and garnished with a lemon slice.
Prepared in extra virgin olive oil with acar and chilli pepper and canned by hand.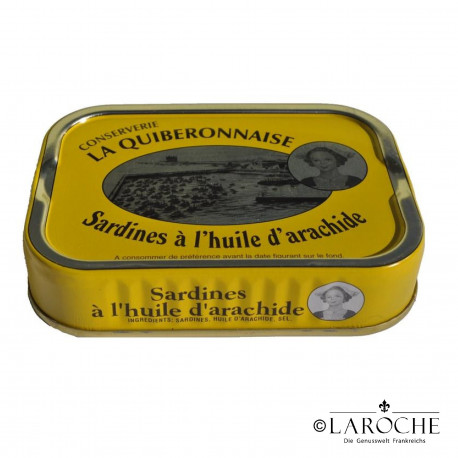 The traditional Breton recipe is sardines preserved in pure peanut oil, a particular oil chosen because it enhances the good taste of the sardine!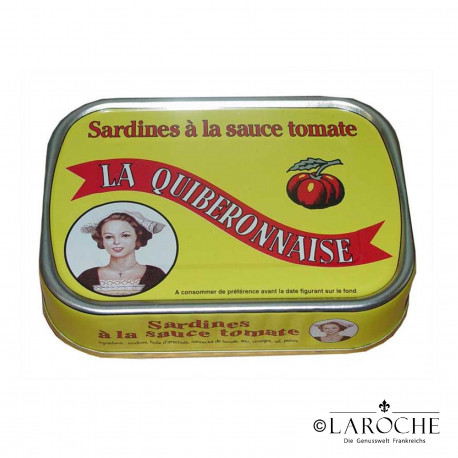 This very mild, non-acidic tomato sauce goes perfectly with fresh, handprocessed sardines!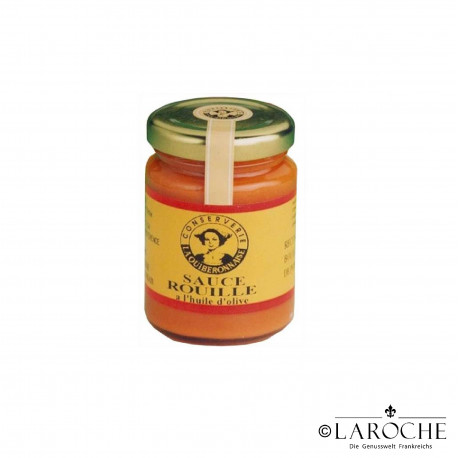 Recommended for bouillabaisse and fish soup!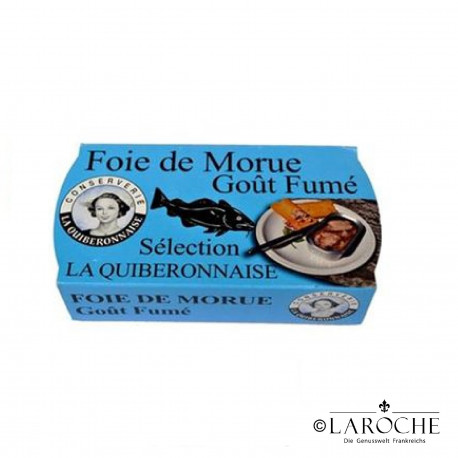 Product of Iceland, rich in omega 3 and DHA, source of vitamin A, E and D!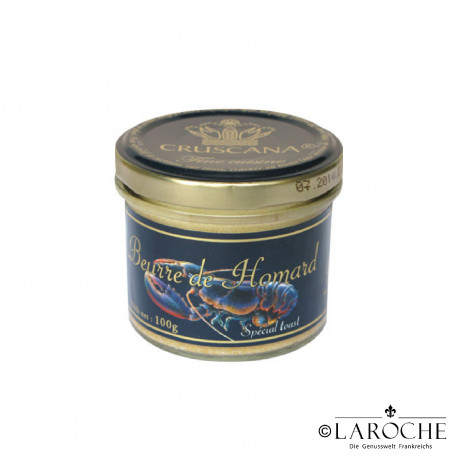 The perfect spread for your aperitif: the delicious lobster butter from Cruscana!
Customers who bought this product also bought:
Authentic, fine, lively, refreshing; with Mediterranean cuisine.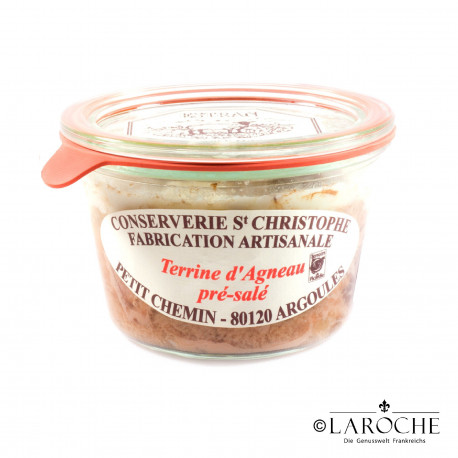 Price
€11.63
Regular price
-25%
€15.50
Artisanal manufactured. This speciality of the Somme bay is to be prepared as a cold dish for aperitif or picnic. Best before: 01/2022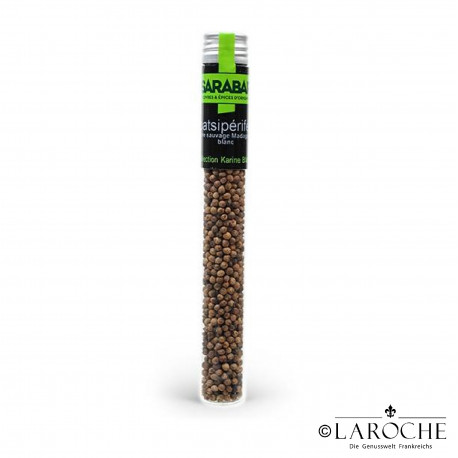 A wild pepper from Madagascar!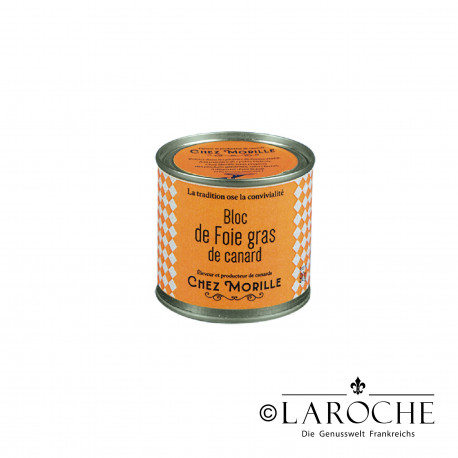 The pâté of duck's lever is the inescapable exquisite dish that helps you to make every aperitif, successful appetizer or tasty meal an unforgettable enjoyment. Its delicate flavour and firm...
Price
€8.91
Regular price
-10%
€9.90