Perennial herb, peppermint has been harvested before flowering. Known for its powerful scent (menthol), its refreshing infusion is appreciated by many.
Gently honeyed, deliciously woody, the fruity orange blossom flavours offer a cup of tea with a beautiful orange-yellow colour and a smooth and creamy liquor.
Variation on rooibos of the bouquet of flavours characterising our famous tea blend, L'Ôriental. Enjoy the sweetness of rooibos deliciously associated with notes of passion fruit, peach and strawberry.
The sweetness of vanilla combined with the slightly sweet and honey-like liquor of rooibos, a round and mellow cup. A real treat!
Delicate, perfumed and aromatic, this fusion of herbal elements embodies all the virtues of lime blossom, verbena, lemongrass, mint and orange blossom. A harmony af flavours not to be missed !
A herbal tea with a floral, gourmet bouquet, bringing together sweet orange and bergamot peel, red rose petals, lemongrass, blackcurrant leaves, orange blossom buds and mallow leaves, deliciously topped off with red fruit aromas.
A cherry, strawberry, raspberry, caramel and vanilla flavoured tea.
Gunpowder to the Westerners, or more poetically "tea pearls" for the Chinese, this lively and astringent tea makes a fresh, thirst-quenching cup of tea. This tea is traditionally used to make the famous mint tea.
A blend of black teas bringing together aromas of poppy, biscuit and marzipan in a delicious, gourmet recipe. A sprinkling of flower petals adds extra magic…
A Gunpowder green tea, mint leaves and a natural mint aroma give this very aromatic blend incredible power and freshness. An iconic welcoming tea for the Berber people, it is customary to drink three cups of this tea in a row as a sign of gratitude and politeness. In keeping with tradition, it is served very hot and very sweet.
A unique and novel combination of Sencha green tea and lemongrass, harmoniously scented with lime and sweet lemon essential oils and ginger. A resolutely fresh and invigorating tea.
A blend of black teas with the delicious aroma of caramelized baked apple livened up with a hint of maraschino. The flavour of deliciously prepared stewed fruits.
Among China's most celebrated flower tea compositions, this jasmine tea provides a beautiful balance between a full-bodied green tea and the white flower's sweet and delicate fragrance. This is the ideal tea to drink with Chinese food.
A blend of black teas perfumed with the mouth-watering aromas of rhubarb, strawberry and wild strawberry. This iconic Dammann Frères tea is always delicious, whether enjoyed hot or chilled.
A deliciously perfumed tea combining the vegetal freshness of a Sencha green tea with the fruity aromas of passion fruit, wild peach and wild strawberry. A fresh and velvety infusion.
Green tea scented with blood orange essential oil. A fresh and vegetal infusion with pleasantly tangy fruity notes.
A beautifully regular leaf creating a subtly scented infusion with beautiful woody notes. Perfect tea to be enjoyed in the afternoon.
Blend of hibiscus flowers, dried apple pieces, rosenhip peels flavoured with raspberry, strawberry and cream flavors.
This 100g box of Fantasia flavoured Carcadet offers you the the pleasure of refreshing fruit infusion combining hibiscus flowers with apple pieces, orange and rosehip peels, all deliciously scented with the aromas of blood orange.
Blend gathering hibiscus flowers, dried apple pieces, rosehip and orange peels deliciously perfumed with cherry flavor.
Here the South African plant rooibos mingles with the acidulous flavour of citrus fruits. Both mild and lively, containing no theine, it is an ideal drink for children or at bedtime. In its orangey box, it brings a ray of sunshine into the house.
A rooibos tea scented with caramel toffee flavours. A throw-back to the sweet treats and candies of our childhood. Parents and kids will both love this deliciously gourmand, warm and theine-free drink.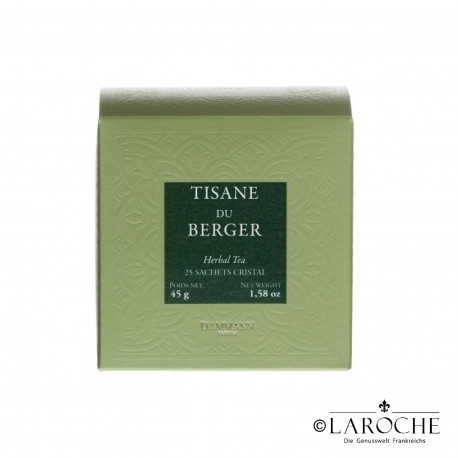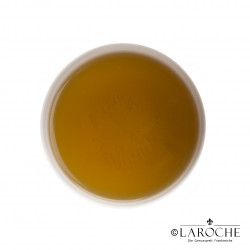 Delicate, perfumed and aromatic, this fusion of herbal elements embodies all the virtues of lime blossom, verbena, lemongrass, mint and orange blossom. A harmony af flavours not to be missed !
Blend of hibiscus flowers, apple pieces, rosehip peels and orange peels deliciously perfumed with peach and apricot flavors.
A blend of carefully-selected black teas scented with citrus fruit essential oils. This tea wonderfully balances the woody and chocolate notes of its blend of black teas and the tangy and fruity notes of its citrus fruit bouquet.
The Yunnan province almost exclusively produces black and dark teas. Nonetheless, it is in this region that this delicate green tea is harvested. Its dark green leaves produce a light yellow liquor that is full-bodied with green and fruity notes and a long finish.
One of the few teas that unites strength and flavour without any bitterness. A tea you can drink with our without milk, ideal cup for the morning.
Halfway between Yunnan green tea and Japanese Sencha, its long dark green leaves produce a clear liquor with a fresh, slightly astringent attack. In the cup, it mingles marine and cooked vegetable (kohlrabi) notes with other slightly roasted flavours, ending in a subtly sweet finish.
A black tea from India with beautiful whole leaves, rich in golden tips. To enjoy at any time of day, with a dash of milk.
Conditionned in Cristal® sachets for ease of preparation, this oolong tea's naturally velvety notes blend with the sweet-salty flavours of caramel. Enjoy a deliciously gourmet cup of this beautifully balanced blend of green and candy notes.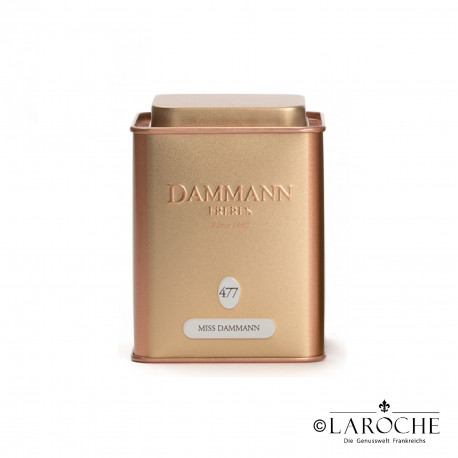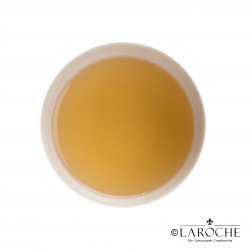 Spirited and spicy like a Parisian mademoiselle, Miss Dammann combines green tea and ginger with the fruity, tangy scents of lemon and passion fruit. A fresh and lively blend.
A blend of Ceylon, Darjeeling and Assam teas. Enjoyed with a splash of milk, this is the perfect tonic tea to begin the day.
The delicacy of this white tea is blended with the subtle scent of rose and the fruity flavours of apricot and passion fruit. A deliciously well-balanced blend for a fresh and vegetal cup of tea.
Fabulously floral, the combination of green Oolong with a bouquet of hawthorn, aloe vera, rose, jasmine, plum blossom and acacia create a tea that is elegant and appealing with a beautiful golden colour.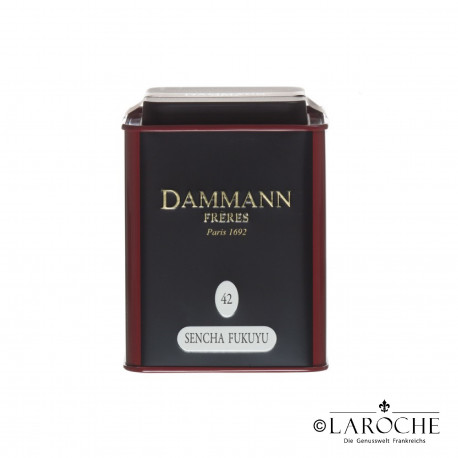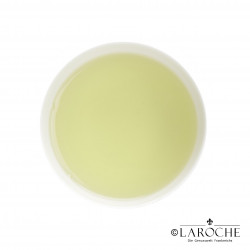 The sencha teas (crafted into flattened-needle shpaes after a brief steam tratment) are appreciated in Japan for their refreshing flavor. This summer harvest offers a cup with strong vegetable notes, hints of fruit and light bitterness.
The fruity and floral notes of a lightly oxidized Oolong tea with vegetal freshness are paired with a bouquet of aromas, combining the finesse of sakura and peach blossom with the delicacy of almond and rose in a subtle and refined blend.
This summer tea of Darjeeling harvested on the Himalayan foothills, gives an amber-coloured liquor wit h a delicate taste of ripe fruit. A tea to be enjoyed throughout the day.