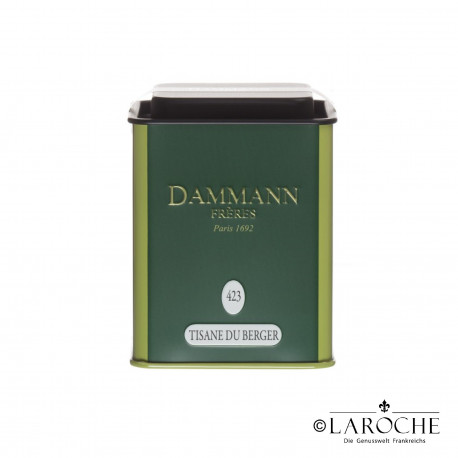  
Dammann, Tisane du Berger - Herbal tea, 40g Box
Delicate, perfumed and aromatic, this fusion of herbal elements embodies all the virtues of lime blossom, verbena, lemongrass, mint and orange blossom. A harmony af flavours not to be missed !
Data sheet
| | |
| --- | --- |
| Netto weight | 40g |
| Packing | Tin |
| Ingredients | Verbena, lime blossom, peppermint, orange blossom, lemongrass |
| Producer | Dammann Fr?res, 15 Place des Vosges, 75004 PARIS, France |
Reviews
No customer reviews for the moment.
16 other products in the same category: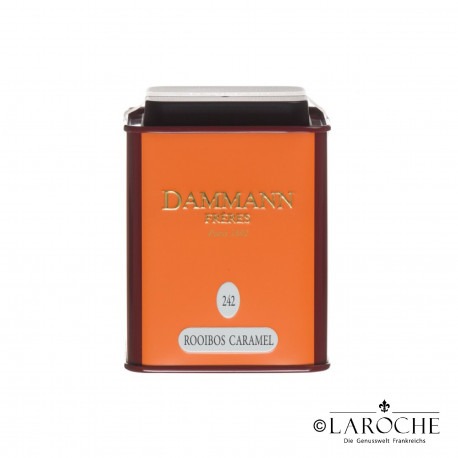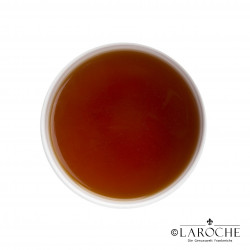 Price
€9.75
Regular price
-25%
€13.00
A rooibos tea scented with caramel toffee flavours. A throw-back to the sweet treats and candies of our childhood. Parents and kids will both love this deliciously gourmand, warm and theine-free drink.
A blend of black teas bringing together aromas of poppy, biscuit and marzipan in a delicious, gourmet recipe. A sprinkling of flower petals adds extra magic…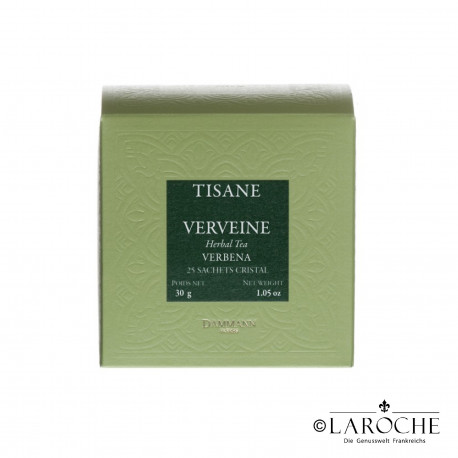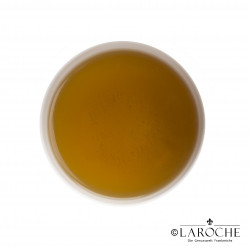 Price
€8.63
Regular price
-25%
€11.50
Gently honeyed, deliciously woody, the fruity orange blossom flavours offer a cup of tea with a beautiful orange-yellow colour and a smooth and creamy liquor.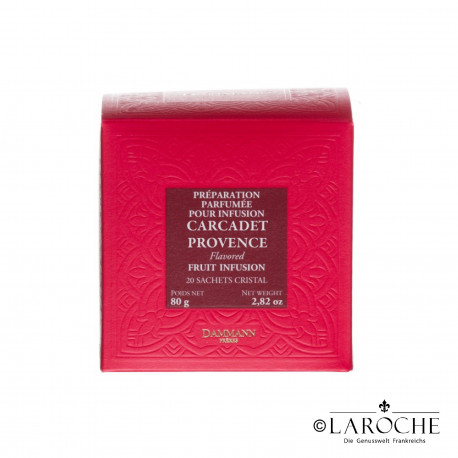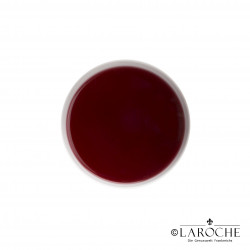 Price
€10.58
Regular price
-25%
€14.10
Blend of hibiscus flowers, apple pieces, rosehip peels and orange peels deliciously perfumed with peach and apricot flavors.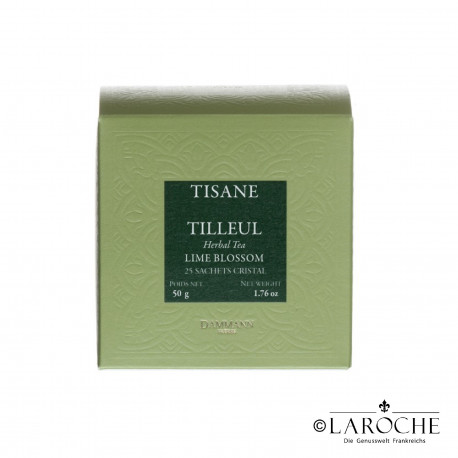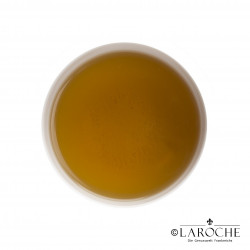 Price
€10.05
Regular price
-25%
€13.40
A unique and novel combination of Sencha green tea and lemongrass, harmoniously scented with lime and sweet lemon essential oils and ginger. A resolutely fresh and invigorating tea.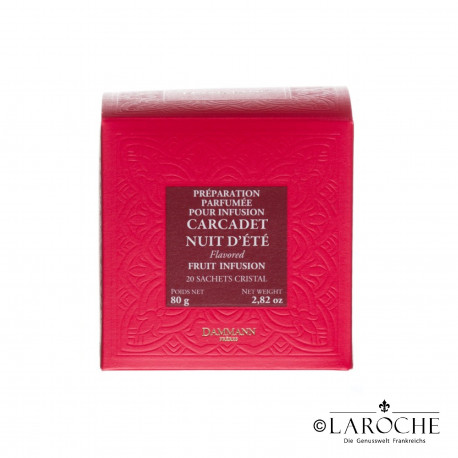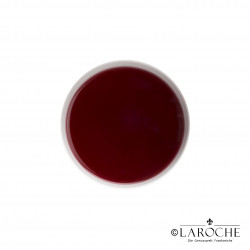 Price
€9.75
Regular price
-25%
€13.00
Blend of hibiscus flowers, dried apple pieces, rosenhip peels flavoured with raspberry, strawberry and cream flavors.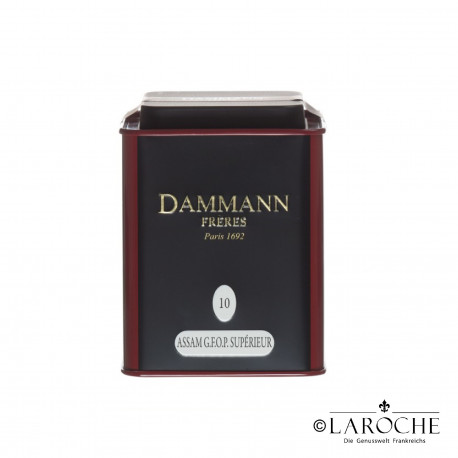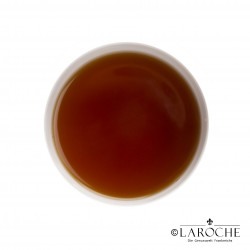 Price
€11.85
Regular price
-25%
€15.80
A black tea from India with beautiful whole leaves, rich in golden tips. To enjoy at any time of day, with a dash of milk.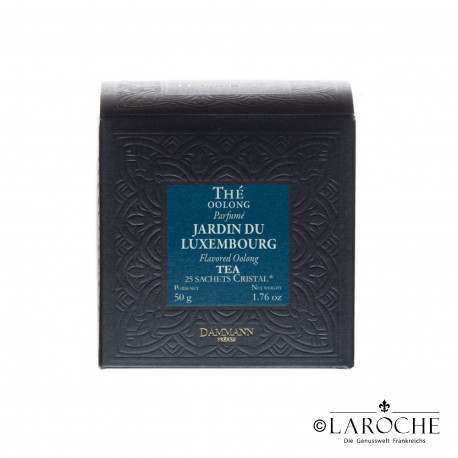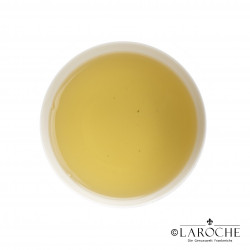 Price
€11.85
Regular price
-25%
€15.80
Green tea scented with blood orange essential oil. A fresh and vegetal infusion with pleasantly tangy fruity notes.
Price
€15.68
Regular price
-25%
€20.90
This summer tea of Darjeeling harvested on the Himalayan foothills, gives an amber-coloured liquor wit h a delicate taste of ripe fruit. A tea to be enjoyed throughout the day.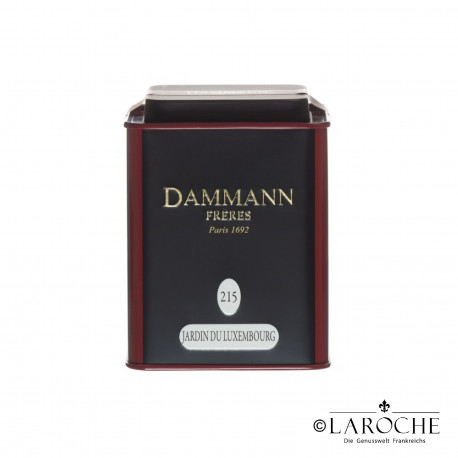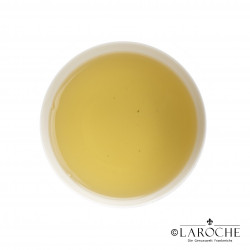 Price
€13.95
Regular price
-25%
€18.60
Fabulously floral, the combination of green Oolong with a bouquet of hawthorn, aloe vera, rose, jasmine, plum blossom and acacia create a tea that is elegant and appealing with a beautiful golden colour.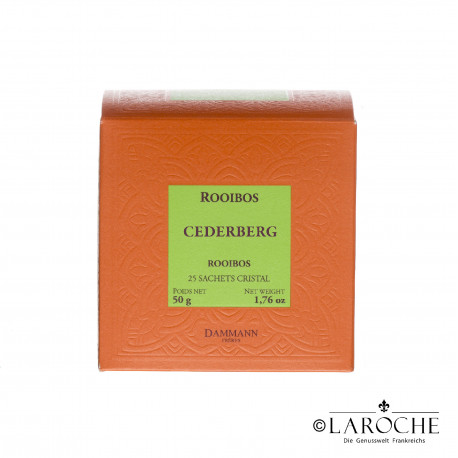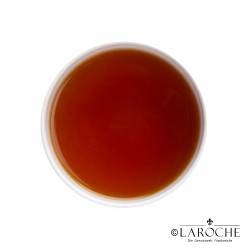 Price
€8.63
Regular price
-25%
€11.50
Variation on rooibos of the bouquet of flavours characterising our famous tea blend, L'Ôriental. Enjoy the sweetness of rooibos deliciously associated with notes of passion fruit, peach and strawberry.
Price
€10.58
Regular price
-25%
€14.10
The Yunnan province almost exclusively produces black and dark teas. Nonetheless, it is in this region that this delicate green tea is harvested. Its dark green leaves produce a light yellow liquor that is full-bodied with green and fruity notes and a long finish.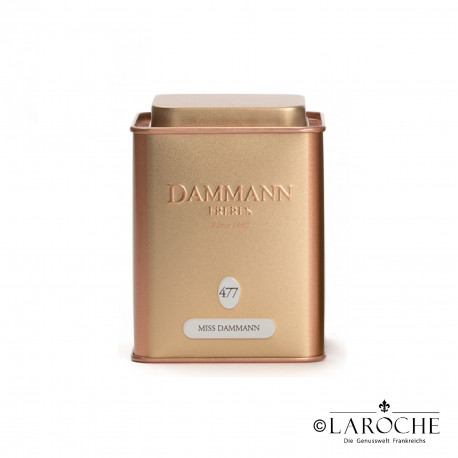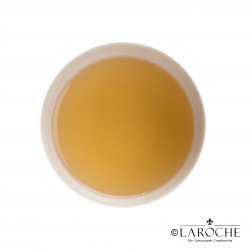 Price
€13.13
Regular price
-25%
€17.50
Spirited and spicy like a Parisian mademoiselle, Miss Dammann combines green tea and ginger with the fruity, tangy scents of lemon and passion fruit. A fresh and lively blend.
Gunpowder to the Westerners, or more poetically "tea pearls" for the Chinese, this lively and astringent tea makes a fresh, thirst-quenching cup of tea. This tea is traditionally used to make the famous mint tea.