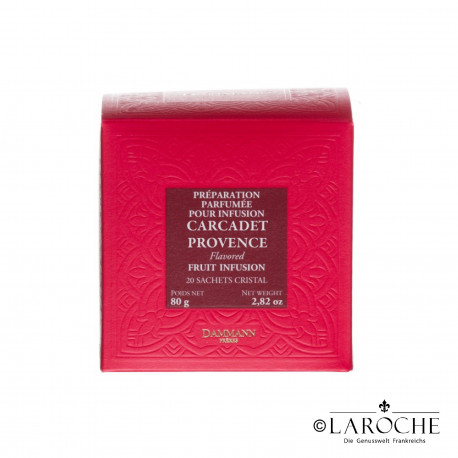  
Dammann, Carcadet Provence - Fruit tea, 20 teabags
Blend of hibiscus flowers, apple pieces, rosehip peels and orange peels deliciously perfumed with peach and apricot flavors.
The "Carcadet" is equally called "bissap" in West-Africa. It is a drink made from hibiscus flowers and is often mixed with fruit peels, diced fruits, or other flowers (depending on the region). Can be served hot or cold; it makes an excellent refreshing cocktail when prepared chilled and mixed with fruit juice.
Data sheet
| | |
| --- | --- |
| Netto weight | 80g |
| Packing | Box of 20 bags |
| Ingredients | Hibiscus flowers, rosehip peels, orange peels, apple bits, flavours (apricot, peach), flower petals |
| Producer | Dammann Fr?res, 15 Place des Vosges, 75004 PARIS, France |
Reviews
No customer reviews for the moment.
16 other products in the same category:
A rooibos tea scented with caramel toffee flavours. A throw-back to the sweet treats and candies of our childhood. Parents and kids will both love this deliciously gourmand, warm and theine-free drink.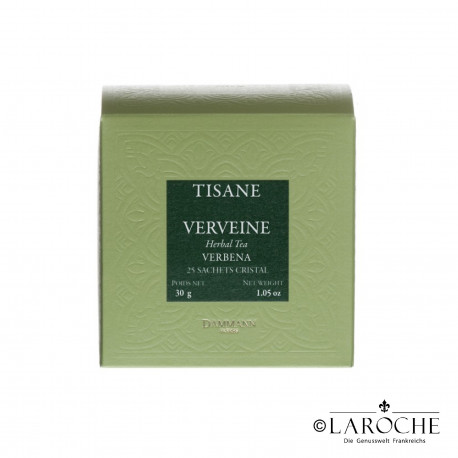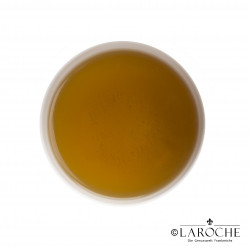 Gently honeyed, deliciously woody, the fruity orange blossom flavours offer a cup of tea with a beautiful orange-yellow colour and a smooth and creamy liquor.
A unique and novel combination of Sencha green tea and lemongrass, harmoniously scented with lime and sweet lemon essential oils and ginger. A resolutely fresh and invigorating tea.
A blend of carefully-selected black teas scented with citrus fruit essential oils. This tea wonderfully balances the woody and chocolate notes of its blend of black teas and the tangy and fruity notes of its citrus fruit bouquet.
This 100g box of Fantasia flavoured Carcadet offers you the the pleasure of refreshing fruit infusion combining hibiscus flowers with apple pieces, orange and rosehip peels, all deliciously scented with the aromas of blood orange.
Gunpowder to the Westerners, or more poetically "tea pearls" for the Chinese, this lively and astringent tea makes a fresh, thirst-quenching cup of tea. This tea is traditionally used to make the famous mint tea.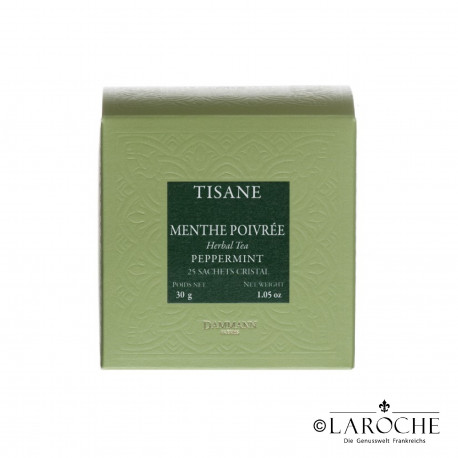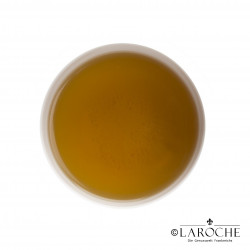 Perennial herb, peppermint has been harvested before flowering. Known for its powerful scent (menthol), its refreshing infusion is appreciated by many.
Halfway between Yunnan green tea and Japanese Sencha, its long dark green leaves produce a clear liquor with a fresh, slightly astringent attack. In the cup, it mingles marine and cooked vegetable (kohlrabi) notes with other slightly roasted flavours, ending in a subtly sweet finish.
One of the few teas that unites strength and flavour without any bitterness. A tea you can drink with our without milk, ideal cup for the morning.
A cherry, strawberry, raspberry, caramel and vanilla flavoured tea.
The fruity and floral notes of a lightly oxidized Oolong tea with vegetal freshness are paired with a bouquet of aromas, combining the finesse of sakura and peach blossom with the delicacy of almond and rose in a subtle and refined blend.
Blend of hibiscus flowers, dried apple pieces, rosenhip peels flavoured with raspberry, strawberry and cream flavors.
A deliciously perfumed tea combining the vegetal freshness of a Sencha green tea with the fruity aromas of passion fruit, wild peach and wild strawberry. A fresh and velvety infusion.
The Yunnan province almost exclusively produces black and dark teas. Nonetheless, it is in this region that this delicate green tea is harvested. Its dark green leaves produce a light yellow liquor that is full-bodied with green and fruity notes and a long finish.